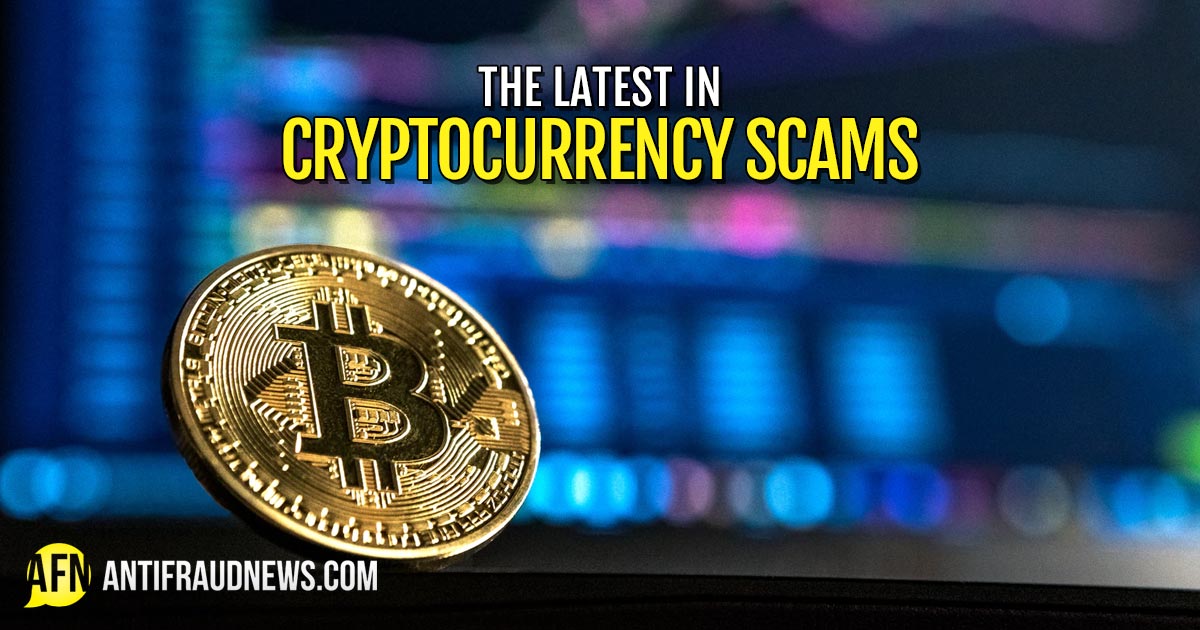 Cryptocurrency is digital money (i.e. all online), meaning that it is instant, largely unregulated and subject to volatile changes in value. This opens the door for many cryptocurrency scams. Below is a list of the latest cryptocurrency scams to be aware of if you plan on stepping into the cryptocurrency market.
The Latest Cryptocurrency Scams
Ponzi Schemes

Many cryptocurrency scams attempt to lure investors with promises of high returns on investments. The fake enterprise establishes message boards with enthusiastic comments related to sales and profits posted by the scammers themselves. However, the only source of funds in this cryptocurrency scam, are from other investors.

Numerous scams have defrauded people out of millions with cryptocurrency Ponzi schemes, including a site known as iCenter. The site falsely promised investors exceptional ROI's in exchange for an initial investment and commission from getting others to invest.

Initial Coin Offerings (ICOs)

Although some ICOs are real, those are few and far between. In legitimate instances, ICOs are used as a way for new cryptocurrency companies to raise money from future users. However, most ICOs lack any real business plan or technology behind them. These ICO scams operate by posing as a startup cryptocurrency company.

Lisa Chang and Kevin Hobbs (BC Canada) allegedly defrauded their investors of $30 million in ICOs. After launching the startup FUEL token, they promised their investors that the value of their cryptocurrency would grow rapidly. They are said to have used investor funds for the purchase of personal assets.

Unregulated Exchanges

The cryptocurrency market is reported to have hundreds of unregulated cryptocurrency exchanges and brokerage firms. These firms offer cryptocurrencies and cryptocurrency trading products. Investors are often enticed by great promotions, promising fast money. Unfortunately, once you deposit money you will be charged with hefty commissions or have difficulty withdrawing your money. There have also been reports of such firms flat out stealing money.

Affiliate Scams

A "classic" and effective way scammers scam cryptocurrency investors is by posing as an affiliate of a legitimate company. Scammers gain the trust of patrons through the use of websites that are visually similar to legitimate organizations. These cryptocurrency scams can become elaborate with the use of logos that are the same or similar, and links that redirect back to the trusted company. Affiliate scams can come in the form of cryptocurrency exchanges that seem legitimate but are entirely fraudulent.

A notable exchange scam occurred when BitKRX (South Korea) posed as a place where patrons can exchange and trade bitcoin. The entire organization was revealed to be fraudulent. BitKRX led users to believe it was affiliated with the legitimate Korean Exchange (KRX) by taking part of its name and scamming people out of their money.

"Straight Up" Scams

The most straightforward way to scam people of their money in the cryptocurrency market is by selling fake cryptocurrency.

A little over a year ago My Big Coin, a fraudulent cryptocurrency, lured patrons into allegedly investing over $6 million. To make matters worse, the site claimed that the currency was being traded on several platforms.

Malware Scams

Malware poses an increased threat to cryptocurrency since all operations are digital. Malware attacks cryptocurrency users by switching address used to transfer crypto coin with an address that the malware controls – effectively transferring the coins to the scammers.

Several tech sites have issued warnings over cryptocurrency targeting malware alerting users of the dangers of sending crypto coins via transactions.
Avoiding Cryptocurrency Scams
With the current popularity of cryptocurrency, it is now essential to stay up-to-date on the latest trends in cryptocurrency scams.
Unfortunately, there is no single way to stay completely protected. However, researching merchants, keeping information secure, and looking into anything that sounds "too good to be true" are assured ways of keeping your money safe. Make sure you keep checking out our Anti-Fraud News Blog to find out about the latest scams.